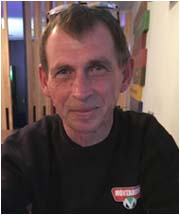 MIKE DAVIS – DIRECTOR/OWNER
PLANTMECH PTY LIMITED | PREMIER ROCK MACHINERY PTY LIMITED | PRM ENGINEERING SERVICES
Mike founded the original company Plantmech in 2002, Premier Rock Machinery in 2010 and PRM Engineering Services in 2017.
His entire career has been in earthmoving since completing his trade in the South African Defence Force, which he joined when he was 16 years old . On leaving the Defence Force after a number of years, he began a variety of product support and service roles such as :
National Service Training Manager – J I CASE
Product Support and Technical Development – J I CASE
Dealer Development – J I CASE
Product Support and Specialist Technical Representative – BELL EQUIPMENT
On immigration to Australia and prior to moving to Queensland and starting up of Plantmech and PRM, Mike was engaged as Service Manager for the Liehberr Dealer in NSW – and was responsible for all aspects of service including the implementation and successful accreditation of the ISO9002 quality management system.
A strong corporate and business background, coupled with many years of technical experience in hydraulics and earthmoving equipment, as well as factory training both here and overseas, Mike and his team are passionate about supplying, installing and servicing premium products and quality service.
Plantmech and Premier Rock Machinery employs 11 staff with both state of the art workshop in Acacia Ridge, with field service capabilities, in Queensland, Interstate and NZ.
Our aim is to the best practice model of excellence in customer service, quality, pricing and technical expertise.
Attach yourself to the best. ™
Key Skills: Business Management, Project Management, Quality Systems, Training and Assessment, Electrical Systems, Safety Systems, Engineering Design & Drafting, Control System Design, Hydraulic Expertise.